Step by Step Gilding Manuals
How to Create Antique & Other Distressed Finishes to Imitation gold Leaf
This gilding manual has been a long time in the making, and has changed since it's inception due to the number of people who approached me.
By far the greater proportion of people were new comers to the world of gilding and wanted instruction, also many people wanted to know how to apply various antique effects to gold leaf and composition gold leaf, these were picture framers and people involved in the world of scrap booking, all sorts of craftspeople wanted to know how to apply a crackle glaze and how to make and use gesso.
This gilding manual will take the mystery out of these processes and make available all the simple materials and equipment needed to carry them out successfully.
If you wish to download the manual please just click on the image.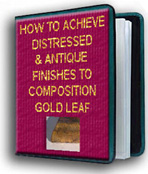 Gilding on leather for Bookbinders
This gilding tutorial has proved very popular amongst bookbinders or those seeking a reliable method of gilding onto leather.
I was taught by a now distinguished master of gilding, Mr. John Mitchell, I have taken what he taught me and what I learned during 20 years as a professional artist craftsman and developed a method which is simpler than the traditional English method of gilding, and one which promises good results provided heed is taken of the instructions, and provided one will practice.
In this gilding tutorial I have always recommended the use of a particular glaire or size for gilding, I am happy to say this glaire is now available, please refer to the gold leaf supplies page.
If you wish to download the manual please just click on the image.

How to make your own gilded vellum manuscript.
For several months I experimented with traditional and modern techniques for gilding onto paper. This manual brings together a new simple method of gilding onto paper with an authentic old bookbinders technique for producing an imitation vellum.
If you wish to download the manual please just click on the image.

Another tutorial is in the pipeline, this will be of interest to established crafts people as it will contain a wealth of methods and recipes I used over the years to create many effects to leather, wood and metal. This manual is not intended for the novice as it assumes you have a workshop with all the attendant equipment and materials used by an established crafts person, how ever that is not to say it will not be of interest to the novice.

This manual should be available sometime during late 2012
EVERY MONTH I SEND OUT A NEWSLETTER WHICH AIMS TO BRING YOU INTERESTING ITEMS CONCERNING THE WORLD OF GILDING AND RELATED CRAFTS. IF YOU WOULD CARE TO SUBSCRIBE PLEASE JUST MAIL Richard at gold-vault@orange.fr and put "gold-vault" in the subject box.