About Us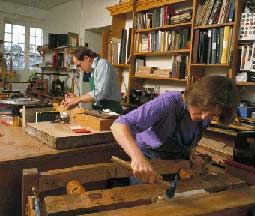 In the early 1980's my wife and I returned to college as mature students to study bookbinding and paper conservation for two years full time. On leaving college we were invited by the community at Downside Abbey in Somerset, England, to set up a book bindery.
For the next 23 years we ran the bindery and also set up a private press and paper marbling studio.

In 1997 the workshops were voted a national living treasure by Country Life magazine for their contribution to the book arts.
In 2004 we closed the workshops on a high note and moved to the South West of France.
We still continue binding and gilding, but we now put a lot of effort into helping others find their way into the crafts.
EVERY MONTH I SEND OUT A NEWSLETTER WHICH AIMS TO BRING YOU INTERESTING ITEMS CONCERNING THE WORLD OF GILDING AND RELATED CRAFTS. IF YOU WOULD CARE TO SUBSCRIBE PLEASE JUST MAIL Richard at [email protected]