A Castle In The Sky
Our daughter Eden's birth inspired me to make her future crèche something special.
At this time we were living and working in the grounds of a monastery as artist bookbinders, we had a large building, part of which housed our paper marbling studio, we decided to use part of the studio as her crèche.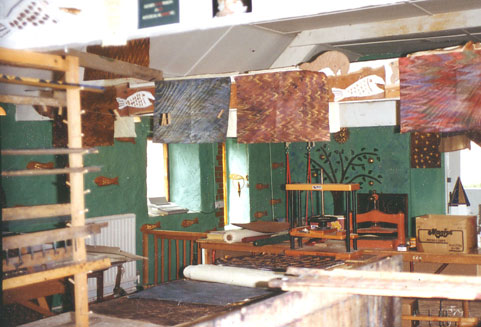 I devoted several hours a week carving smiling fish into the rough plaster walls, painting and gilded them. I carved a large tree of life and many other fanciful symbols all around the room.
When Eden was about 4 months old, on impulse really, I started making a model castle from scrap 3mm greyboard.
A part of the castle was about finished when Eden was 15 months old
The castle had pathways which led from top to bottom and a large ball bearing ran down the pathways in and out of the castle.
I used imitation gold leaf and copper leaf together with bronze powder in shellac for the gilded turrets.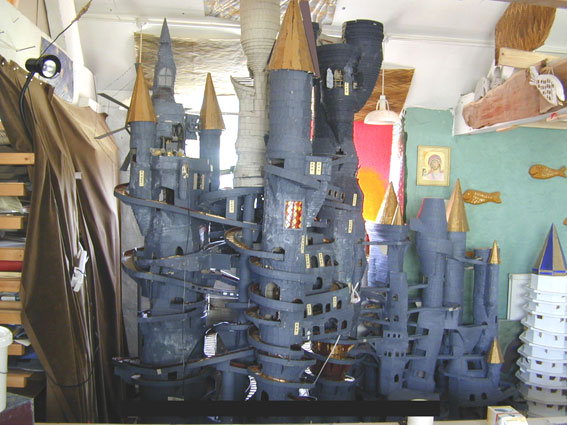 This is the castle approaching completion, it now takes up 5 sq yards of floor space and is 11 feet high. This castle in the sky has electricity for lighting and also to power electric motors that bring movement. All in all it took about 8 years to finish.
EVERY MONTH I SEND OUT A NEWSLETTER WHICH AIMS TO BRING YOU INTERESTING ITEMS CONCERNING THE WORLD OF GILDING AND RELATED CRAFTS. IF YOU WOULD CARE TO SUBSCRIBE PLEASE JUST MAIL Richard at [email protected] and put "gold-vault" in the subject box.