Gold Leaf
Painting.
Harriet Green
Harriet Green from Totton, Southampton is a self taught decorative painter, she ran a paint workshop in the New forest area of England for almost 6 years where she hand painted and decorated furniture.
She has been using imitation gold leaf to create gold leaf paintings in a number of different ways to produce her own style of gold leaf painting. She is a great admirer of Prof Agostino Dessi the Florentine mask maker and she has used imitation gold leaf to produce her own gold leaf paintings. Harriet applies various lacquers and varnishes to seal her work, so tarnishing of the leaf is never a problem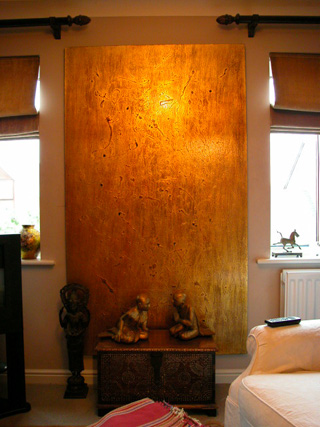 Harriet also works with large panels covered in imitation gold leaf. On the left is a picture of one of her large panels. It is quite straightforward to make these large panels, and they lend such ambience to a room.
Here is another example of her work, details taken from a series of her work entitled "Alchemy".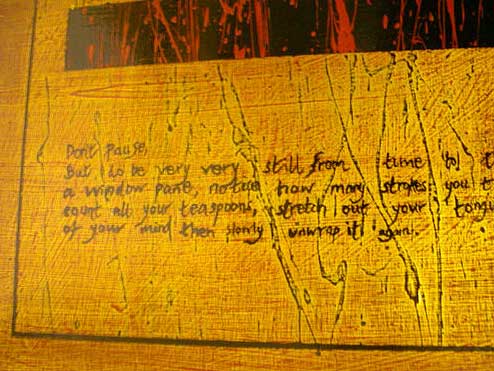 She can be reached by email at Harriet Green info@chameleonpaints.co.uk
Xany Rudoff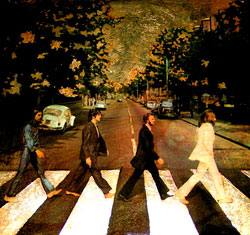 Xany Rudoff is a Los Angeles-based artist, a self proclaimed "Visionaire Extraordinaire" who produces gold leaf paintings, but has dabbled in acting, interior design, wardrobe styling, and modeling.
Born in Pasadena to an artist mother and art historian father, Rudoff moved with her family to the desert expanse of Apple Valley, CA, a site that would be crucial for her artistic development.
In the wide, empty nothingness of the desert landscape, there were no limitations to Rudoff's imagining, and upon returning to Los Angeles proper to get her B.A. in fine arts at the University of California, Los Angeles, she was able to see the city and the art world from the outside.
This sort of perspective is what has driven her to remain independent, outside of the gallery system, and to advocate for artists' right to receive royalties for the resale of their works.
Her upcoming show at the Chateau Marmont in Hollywood will showcase LP covers that have been transformed into religious art objects of the present.
In these works, Rudoff explores the idea of the iconic by using found albums — David Bowie, Debbie Harry, The Beatles — that feature images that are themselves iconic and borrowing the visual language of religious gold leaf paintings to push this idea even further.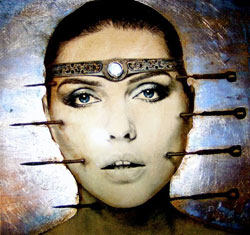 In a process that mimics the making of Renaissance icons, Rudoff applies gold leaf to the album's surface, followed by paint and lacquer.
The result is breathtaking work that luminesces with the burnished luster of a church fresco, but is intimate and personal in size and image: rock 'n' roll icons made magnificent in a work that is at once transcendent and familiar — a gold leaf painting the size of an LP that can be held in one's hands, transformed into an exultant and exuberant example of modern-day devotion.
You can view more of Xany's work and contact her here.
Gold leaf and imitation gold leaf can be used in many ways, in furniture design for example.
EVERY MONTH I SEND OUT A NEWSLETTER WHICH AIMS TO BRING YOU INTERESTING ITEMS CONCERNING THE WORLD OF GILDING AND RELATED CRAFTS. IF YOU WOULD CARE TO SUBSCRIBE PLEASE JUST MAIL Richard at gold-vault@orange.fr and put "gold-vault" in the subject box.