Shabby Chic Furniture A Simple 4 Step Process
Shabby Chic furniture is a decorating style that appears to be here to stay. It is great for people who like to save money. Some people scour flea markets and yard sales looking for distressed furniture of all kinds that has the old and worn look, the shabby chic style.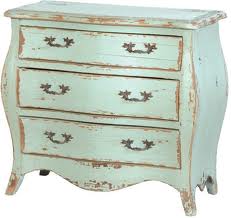 Often, distressed painted furniture can be picked up for next to nothing. It is these cheap items of painted furniture that I am interested in.
Of course you can also buy new, cheap reproduction furniture made from MDF (medium density fibreboard) which comes un-painted for you to finish, but I prefer looking for old painted furniture, as it has the bumps and dents that speak of age. We are just going to make it look better.
Of course if you have old un-painted furniture you can give it a coat of paint and use these simple distressed finishes to bring it to life.
Now bear in mind we are going to be dealing with an existing painted surface, you must remove all grease from the surface, I suggest wiping over all surfaces with methylated spirit, or any 90 proof alcohol and letting it dry, which wont take long.
We are going to look at a simple 4 part process which is certain to give good results.
If you have just arrived at this page and do not know what a crackle glaze & antique glaze is please look to the menu and read up about these process' or follow the links then come back here.
The first step is to apply a two part crackle glaze to those areas of the painted surface where you want it to appear. This consists of a base coat and a top coat.
When the crackle glaze is dry you apply the antique glaze, rubbing it well into the cracks caused by the crackle glaze. This highlights the cracks.
With a clean cloth wipe over all surfaces to remove the greater part of the antique glaze.
Lastly give the piece a coat of oil based matt varnish to seal the finish.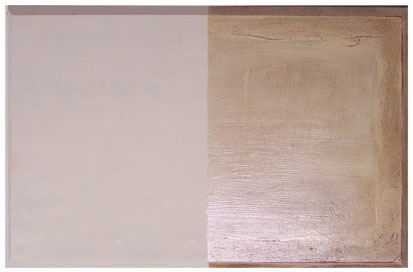 Here you can see the finished effect when applied to a beige painted surface. It also works well with pale green or pale blue.
I can easily imagine this effect carried out to a table top, or to the front of draws etc.
And remember you don't have to use the 2 part crackle glaze, the antique glaze on it's own produces a fine shabby chic style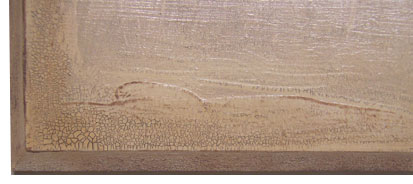 Here is a close up of the finish, it does not matter if there are brush strokes on the surface of the piece, these get highlighted by the antique glaze and add to the impression of age.
I hope this simple process will be of some help to you. If you feel you would like to create your own shabby chic furniture, there is a kit available from this_page.
There is a free fully illustrated manual for those with an interest in this subject at the download page, but for the moment let us take a look at what is involved in gilding onto leather.
EVERY MONTH I SEND OUT A NEWSLETTER WHICH AIMS TO BRING YOU INTERESTING ITEMS CONCERNING THE WORLD OF GILDING AND RELATED CRAFTS. IF YOU WOULD CARE TO SUBSCRIBE PLEASE JUST MAIL Richard at [email protected] and put "gold-vault" in the subject box.