Gold Leaf In Furniture Design
Tom Christenson operates a one man woodworking shop in Bakersfield California. In 2003, He "changed careers" after a 30 year stint in the oil production business. He is now working full time at his passion – creating beautiful furniture.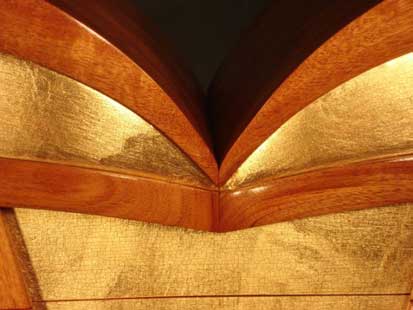 This is a detail which shows how Tom made use of our crackle glaze, I think he wanted subtlety so he omitted the antique glaze which would have highlighted the crackle.
You can find Tom's details below, don't hesitate to call him if you are looking for something unique and exceptional. He has a one-of-a-kind style that is perfect for those seeking creative interior elements.
Tom Christenson
T. A. Christenson Woodesign
10701 Haworth Lane
Bakersfield CA 93311
USA. Email: tom@tacwoodesign.com
All work and no play makes Jack a dull boy. This child's castle was just for fun.
EVERY MONTH I SEND OUT A NEWSLETTER WHICH AIMS TO BRING YOU INTERESTING ITEMS CONCERNING THE WORLD OF GILDING AND RELATED CRAFTS. IF YOU WOULD CARE TO SUBSCRIBE PLEASE JUST MAIL Richard at gold-vault@orange.fr and put "gold-vault" in the subject box.