What Is A Gilding Ground?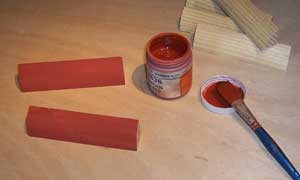 A Gilding ground served a two fold purpose, it acts as filler if working on bare wood, and as imitation gold leaf, or genuine gold leaf is so thin, they serve to give gold a warmer colour.
If you are creating an aged finish the deep red colour will show through the gold giving a very authentic appearance of antique gold, as the picture on the right shows.
Armenian bole, a refined clay, is generally used for this. But I have found that a good red ochre pigment works just as well.
The gilding ground is simply mixed with water if working with a wood or porous surface, or it may be mixed with an oil based size if you are thinking of working on a non porous surface such as glass or metal.
You can purchase a red ochre ground from the
gilding supplies page.
One of the most popular finishes is the crackle glaze, lets go on to see now
how the crackle glaze is obtained.
EVERY MONTH I SEND OUT A NEWSLETTER WHICH AIMS TO BRING YOU INTERESTING ITEMS CONCERNING THE WORLD OF GILDING AND RELATED CRAFTS. IF YOU WOULD CARE TO SUBSCRIBE PLEASE JUST MAIL Richard at gold-vault@orange.fr and put "gold-vault" in the subject box.