Gilding Mentoring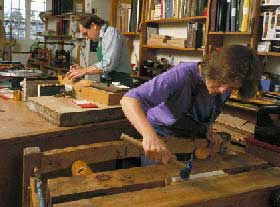 As I am offering myself as a gilding mentor I feel I should tell you something about myself.
My name is Richard Norman, I am 59 years old, married with a 17 year old daughter. We live in South West France.
I qualified as a bookbinder after attending a two-year full time City & Guilds course at Brunel College, Bristol. I was then asked to set up a bindery by the monks at Downside Abbey in Somerset. My wife and I ran this bindery, together with a fine printing facility andpaper marbling studio, for nearly 25 years before moving to France for a better quality of life for our daughter.
We also did a great deal of gilding, onto leather and wood as well as gesso.
Prior to the closing of the workshops they had been voted a National Living Treasure for the workshops contribution to the book arts.
So I feel I speak as a mature, qualified & experienced craftsman.
For the past five years I have been helping people into the craft of gilding and its companion trades by offering myself as a potential friend and mentor.
This gilding mentoring, or one on one help and advice, will take the form that suits you, whether you need help finding a teacher, or suggestions about learning at home, if you need equipment or materials I undertake to put you in touch with those offering the best value for money.
I help to clear away any misconceptions about the craft of gilding and bring you greater understanding.
I try to take you from where you are in relation to the craft of gilding, to where you would like to be.
Here I offer myself as a mentor to help you get started in gilding or perhaps help you through your gilding project for a period of 3 months, for the nominal sum of £15.00.
If you would like to subscribe to this service just click the subscribe button below, you can EASILY cancel your subscription at any time.
EVERY MONTH I SEND OUT A NEWSLETTER WHICH AIMS TO BRING YOU INTERESTING ITEMS CONCERNING THE WORLD OF GILDING AND RELATED CRAFTS. IF YOU WOULD CARE TO SUBSCRIBE PLEASE JUST MAIL Richard at [email protected]