Gold Leaf Supplies/Gilding Supplies.
Using only our gilding supplies, Lorna Poulos, the respected American artist. gilded this enormous picture frame.
Believe it or not this was Lorna's first attempt at gilding something like this.
"...thank you for taking so much time over my choice of materials...your manual on distressed finishes was invaluable." Lorna.
You can be sure you are getting quality materials when you purchase from us, and if you ever get stuck you can always drop me a line.
Here you will find a range of gilding supplies that includes everything in the price, no extra taxes, no extra for shipping or handling.
This includes shipping within Europe, for the USA, Australasia and the Far & Middle East please ask for details. [email protected]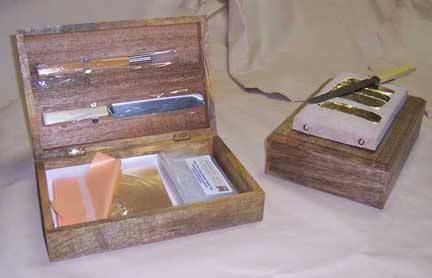 Gilding Box and Accessories.
I have put together a very nice gilding kit, the kit comprises a solid hard wood hinged box.
A gilding cushion mounted on the lid.
A faux bone handled gilders knife.
An agate burnisher.
You also get a book of imitation gold leaf.
Plus pumice powder which is used to de grease the cushion.
And lint free cotton wool to handle the leaf.
You will also get a copy of the popular step by step gilding manual. in .pdf format.
Please note from August 2012 the boxes will be made from pear wood and are a lighter shade of wood. Colour of leather used for gilding pad may vary.
Price £93.99 includes shipping within Europe. Shipping to the USA, Australasia & the Far East will incur extra shipping charges, please ask for details. This item is sent by expedited delivery.
Email Richard [email protected]
The following items include postage within Europe, for other destinations please mail me: [email protected]
Gilding supplies - A genuine agate burnisher at a very affordable price, , it is less than half the price of burnishers currently available. Useful if you wish to be able to burnish highlights when using gesso. Price £13.99 shipping included.

Gold leaf supplies. These gilding knives will last for generations, they are made from the finest Sheffield steel.
Price £17.99 shipping included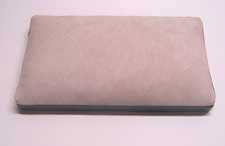 Gilding supplies - Gilding Cushion. I have made these gilding cushions myself. Measuring 9" x 6" the leather is not only glued in position, but riveted with brass rivets. The leather I chose is particularly dense and tough. It will last many years.
Price £39.99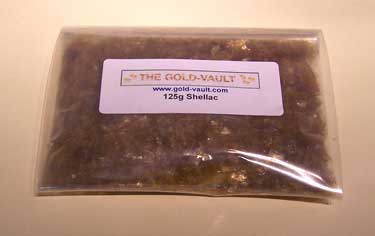 Gilding Supplies - Shellac Size. This is the shellac size I use myself and recommend you try, some people advocate the use of an oil based size, some prefer a water based size, I use shellac as it is very easy to prepare and dries quickly, it can also be used to seal the leaf and imparts a pleasing colour to the gold leaf.
Please note, we have not increased our prices since 2013, in the intervening years the price of raw shellac has increased dramatically.
Price £20.55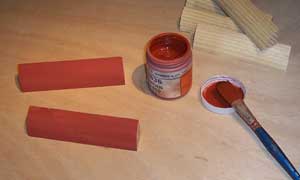 Red Ochre Pigment 30g
Used to provide a background colour prior to gilding. Mix with de-natured alcohol (methylated spirits) and apply with a brush.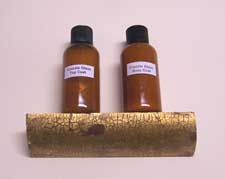 Quality Gold Leaf Supplies. Two Part Crackle Glaze.
In my opinion this two part fine crack crackle varnish is the easiest to get predictable results from.
Just make sure that work is not done in cold conditions, and that you apply thin coats.
Price per 50ml bottle of bottom coat and top coat. £16.99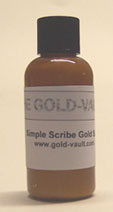 Gilding supplies - Simple Scribe Gold Size. I developed this gold size (adhesive) after using several of the acrylic based gold sizes. The problem they had in my opinion was that they called for the user to apply the gold leaf "at the right time", what the right time was depended in part on your local conditions, humidity etc.
The size I supply is ready when it is dry, simple as that. This is because this gold size dries sticky, a very simple idea which has taken all the guesswork out of the gilding process.
This size is perfect for gilding onto paper and other flexible surfaces.
50 ml £15.60 includes shipping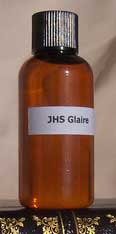 JHS Gold Size for leather. This is the new glaire manufactured by J.Hewit & Sons Ltd in England. It's water based so poses no problem from fumes unlike the other popular shellac based glair, BS Glaire.
This is the size you need for gilding onto leather.
It is easy to apply with a brush or cotton wool pad, you can also leave this glaire once applied and come back weeks later if needed to do the gilding.
Price £8.99 including shipping. Temporarily out of stock.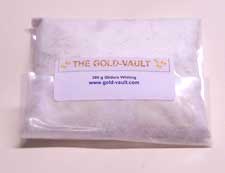 Gilding supplies - 380g pack of gilders whiting.
Price £21.99 including shipping

50g of Fine grade pumice powder.
This is essential for keeping the gilding cushion free of grease.
Price £13.50 including shipping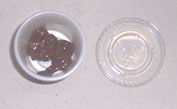 Gilding Supplies - 5g Pot of Antique Glaze.
The correct glaze to use with all the projects mentioned on this site. A little goes a long way.
Price £8.70 including shipping
Gilding Supplies -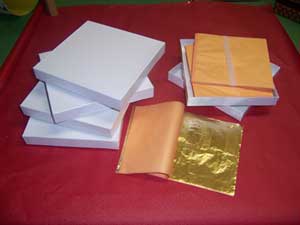 Imitation gold leaf is a vastly under rated material, I used it all the time in our workshops for a variety of things. It comes in various shades, the one I sell here is a very close match to 23 carat gold leaf in colour, it looks very convincing when used in place of genuine gold leaf.
You can purchase it here from this site at prices lower than most places online and lower than you would pay in a store.
THESE PRICES ARE ALL INCLUSIVE, THEY INCLUDE SHIPPING BY AIRMAIL TO YOUR DOOR IN EUROPE.
PLEASE SEE BELOW FOR PRICES


EVERY MONTH I SEND OUT A NEWSLETTER WHICH AIMS TO BRING YOU INTERESTING ITEMS CONCERNING THE WORLD OF GILDING AND RELATED CRAFTS. IF YOU WOULD CARE TO SUBSCRIBE PLEASE JUST MAIL Richard at [email protected] and put "gold-vault" in the subject box.