Imitation Gold Leaf, Gilding & How To Create Antique Or Distressed Finishes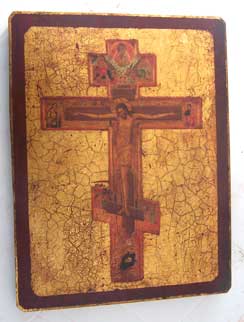 This website is all about using imitation gold leaf or genuine gold leaf, to achieve a variety of antique and distressed finishes to the leaf. If you are a beginner, don't worry, the antique gold finish and glazes we will talk about are simple to prepare and apply.
If you would like an in depth look at the various materials and procedures used in gilding go to this page and follow the link at the bottom of each page.

Goldleaf supplies EVERYTHING YOU NEED. A comprehensive list of gilding supplies, including our hand made gilding box and accessories with the gilders pad built into the lid. Imitation gold leaf at lower prices than you will find elswhere, all prices include tax amd shipping.
Gilding project kits Here you will find gilding kits that will enable you to re-create all the projects and distressed finishes to be found on the site. From the standard kit, which enables you to create a simple but effective antique gold finish, to the professional gilding kit, which enables you to create three distinctive finishes including the crackle glaze and gesso finish.

Goldleaf in furniture design EXCEPTIONAL CRAFTSMANSHIP to inspire you to undertake your own furniture design incorporating gold leaf. We show the work of furniture maker Tom Christenson and how he makes use of a crackle glaze to enhance his work.

Shabby chick furniture Shabby Chic is a decorating style that appears to be here to stay. We show you how to create an aged crackle finish om an emulsion painted surface we also supply a kit to achieve this effect. It's not difficult to create this sort of finish, even your mistakes can add to the character of the piece.

Gold leaf in painting Showing the exceptional talents of two artists who are using imitation gold leaf in their work to inspire you to undertake your own paintings incorporating gold leaf including the antique gold finish.

Simple Scribe Do you crave simplicity? You can use this gold adhesive on paper to make gilding easy! The size dries sticky and takes all the guesswork out of using imitation gold leaf. Available in 50ml, 250ml and 500ml

Make your own parchment paper Bookbinders over the centuries have used this simple recipe for making parchment paper and imitation vellum. Just brush a particular lacquer onto a suitable paper and allow to dry, that's all there is to it. We can supply the lacquer if you need it.

Create a gilded manuscript This project unites a refreshingly simple method of gilding onto paper with an old method of making an imitation vellum. The results are very convincing and all you need is your PC and some basic materials which are supplied in the kit that accompanies this project.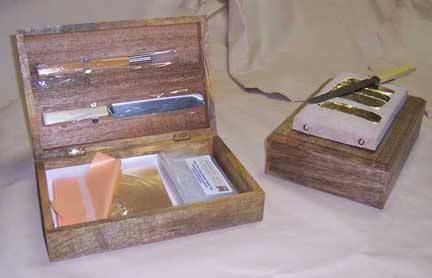 3 FREE fully illustrated .pdf manuals How to achieve all the finishes shown in these pages, plus how to create distressed finishes, also how to gild onto leather and paper.
Mentoring Here I offer myself as a mentor to help you get started in gilding or perhaps help you through your project, we charge a nominal fee for this service.